You'll find our great burgers in Paducah, KY and Union City, TN. If you're ready to order visit us or call ahead with your order!
Ordering is easy!
Call ahead so your Station Burger order is ready for pickup when you arrive. Or, come, relax among friends and have your favorite burger, chicken sandwich or hot dog! And don't forget your ice cream dessert to finish the meal off right! Not sure what you want? See our full menu here! Remember if you order a side with your burger you'll get a FREE drink!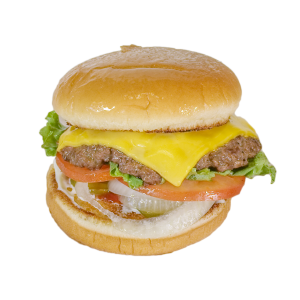 The signature Station Burger is the only one of its kind. Crumbled bacon hand patted into the burger is something you just don't want to miss! If you're searching for a quick lunch or a unique dinner stop, go to The Station Burger nearest to you. You'll discover fresh, clean eating in an environment that welcomes and celebrates the heroes of our community.
The Station Burger Co.
Customer Reviews
The setting was nice, food was awesome, the servers were polite and attentive. I do not like fries but I decided to try theirs and I totally enjoyed them. Hot food, quick service, friendly atmosphere.
This was our first visit to Station Burger. We will go back!!! We each had a burger, onion rings, and fries. The burgers were awesome!!! They also have ice cream!!! Very nice little place to grab a bite to eat, The staff was very nice too! It is a must stop if in Paducah!!
Really happy with the food! Great value for the price. Lots of police, fire, and EMT memorabilia at "The place that heroes eat". Would definitely recommend!
Good experience at The Station Burger Co. in Paducah, KY. over the Memorial Day weekend. Really good hamburgers and good service. I highly recommend to anyone passing through. Looking forward to our next visit
The best burger there is! The staff are super nice and super efficient! We eat there a lot and never have a problem with the food nor with the service!
This was our first time eating here, wish we lived closer, delicious burger and fries! Fantastic staff and pleasant atmosphere. My kids love the memorabilia of all the heroes. Love this place
Best hamburger in Paducah.